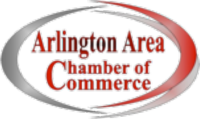 The Arlington Area Chamber of Commerce meets every third Monday of the month, City Hall at 5:30 pm. Everyone is welcome to attend the meetings.
The primary objective of the Chamber is to promote the businesses and communities included in the Arlington area. This includes planning events designed to bring visitors into town, sponsoring community events, as well as sponsoring promotional efforts for the Arlington area. The Chamber has no paid employees so everything we do is accomplished through the hard work of members who have volunteered their time to better their community.
If you would like to join the Chamber, we NEED you! Membership dues are $25 per year for individuals, $75 per year for businesses with five or less employees and $125 per year for businesses with six or more employees.
For more information our address is Arlington Area Chamber of Commerce, P. O. Box 32, Arlington, SD 57212 or email arlington.chamber@yahoo.com or contact one of the members below. We look forward to seeing you at the next meeting!
Current Chamber Members: